Finding diabetes-friendly options can quickly become a challenge for people with diabetes who like to enjoy a sweet treat. Besides the taste, some sweets have become social activities in which sometimes we would like to participate and feel included without feeling the pressure of diabetes. One of them is eating ice cream in the summer after a walk outside. With our diabetic ice cream recipes and some surprise recipes at the end, daily life will taste better.
Everyone deserves the chance to indulge in life's simple pleasures, even individuals with type 2 diabetes. Unfortunately, most store-bought ice cream brands are loaded with sugar and additives, which can have negative health effects on anyone, regardless of diabetic status. Let's start our healthier ice cream options for everyone to enjoy.
Vegan & Sugar-Free Diabetic Ice Cream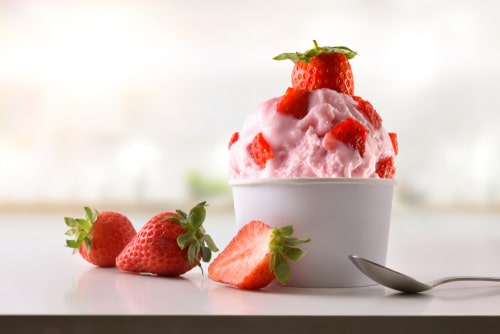 It is time to freely enjoy strawberry ice cream after all these years!
To make this vegan strawberry gelato with no added sugar, you only need five ingredients:
Frozen Strawberries: You can use fresh strawberries that you freeze yourself or pre-frozen berries. This recipe can also work with other berries or creamy fruits like peach and mango.
Coconut Milk: Use canned full-fat coconut milk to achieve the creamiest dairy-free strawberry ice cream.
Cashews: Raw, unsalted cashews will make this ice cream wonderfully creamy. For a nut-free alternative, use 200 grams of thick dairy-free cream like oat cream (such as Oatly).
Vanilla Extract: Choose natural vanilla for the best flavor.
Stevia (optional): You may adjust the amount of stevia as you like or just not use it for a fresher taste.
Preparation:
Here are step-by-step instructions on how to strawberry diabetic ice cream:
Soak the cashews in cold water overnight or boil them for 20 minutes until soft.
Add all the ingredients to a blender and blend until completely smooth. Taste the mixture and adjust the sweetener and/or vanilla if needed.
Transfer the mixture to a freezer-safe container and let it freeze for a few hours or overnight. I recommend stirring it every 20 minutes for the first hour to ensure it remains creamy and smooth.
When ready to serve, allow your diabetic ice cream to thaw at room temperature for 15-20 minutes.
To make scooping easier, dip the ice cream scoop in hot water, wipe it off, and use it.
Diabetic Chocolate Ice Cream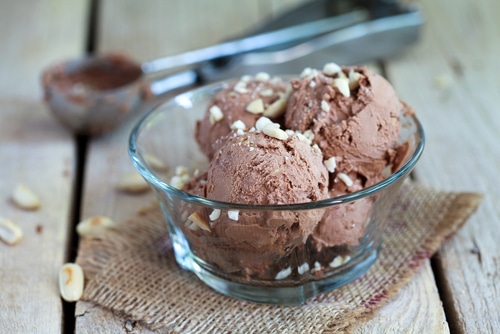 If the diabetic ice cream was not good enough, let's make it chocolate this time! This easy recipe takes only 10 minutes! The ingredients with the given measurements allow us to have 8 serving sizes of diabetic ice cream.
Ingredients:
1/3 cups (14oz/232ml) coconut milk
1/2 cup (4floz/115ml) coconut cream
1/4 cup (2oz/57g) Stevia
1 tablespoon pure vanilla extract
1/4 cup (1oz/28g) unsweetened cocoa powder
Nuts for topping
Preparation: 
To make the mixture, combine coconut milk, coconut cream and stevia in a large bowl or blender. If you're whisking the ingredients by hand, reaching a creamy texture should take around 3 minutes. 
Add the cocoa powder to the ice cream mixture and blend or whisk until fully combined. Proceed to transfer the mixture into an ice cube tray and freeze for a minimum of 4 hours, or overnight for best results.
 Once the ice cream has been set, remove the cubes from the tray and allow them to thaw for 10-15 minutes at room temperature. Next, transfer the slightly thawed ice cream cubes to a blender or food processor and blend quickly for approximately 5 minutes until the texture is thick, rich and creamy. Pour the blended ice cream into a 9×5 inch loaf tin and store in the freezer. 
When ready to serve, simply scoop and enjoy your diabetic ice cream without messing with your blood sugar levels!
Bonus Recipe 1: Diabetes-Friendly Pizza
We did not want to let you go only with diabetic ice cream recipes! Here is a doable and tasty pizza alternative people with diabetes can easily fit into their meal plan. Replacing dough with cauliflower might sound a bit questionable, but we promise even children would enjoy this treat!
Ingredients:
Desired toppings – Mushroom, olives, and tomatoes can be great alternatives
Cauliflower- 1 head.
Flaxseed- 3 tablespoon.
Water- ½ cup.
Coconut Flour- ½ cup. 
Paprika- ½ teaspoon. 
Parsley- 1 teaspoon. 


Non-sugar Pizza Sauce- ⅓ cup (we recommend checking the nutritional facts label for any additional sugar, just in case)
Preparation: 
Prepare the cauliflower by breaking it into florets and removing the stem. Use a food processor to process the cauliflower until it is the consistency of rice, then squeeze out the liquid and allow it to dry on a clean kitchen towel or stack of paper towels. 
Next, prepare the vegan egg by whisking the flaxseed and water in a small bowl. Preheat your oven to 450°F and line a baking sheet or pizza pan with parchment paper. Combine the coconut flour, paprika, and parsley in a mixing bowl using a whisk or fork. 
Add the dried cauliflower and the vegan egg to the mixing bowl and stir until just combined. Transfer the mixture to the prepared baking sheet and press the back of a spoon or a rolling pin into the desired shape. 
Bake for 15-18 minutes until it begins to brown, then remove from the oven.
Add your preferred toppings, such as sauce, vegetables, and seasonings, and bake for 8-10 minutes or until the pizza is done to your liking.
Bonus Recipe 2: High Protein Diabetic Smoothie
Your sweet tooth strikes again after the salty pizza recipe, right? We got your back. This sugar-free smoothie is your jam if you want ice cream for diabetes. They taste alike! All you need is a blender
Ingredients:
1/2 cup almond milk (unsweetened) 
4 tablespoons pea protein powder
½ fresh or frozen cup of blueberries 
1/2 teaspoon pure vanilla extract
14 oz. coconut milk (unsweetened)
Preparation: 
Place the blueberries, almond milk, pea protein powder, and vanilla in a high-speed blender. Gradually pour in the canned unsweetened coconut milk, adjusting the amount based on your preferred smoothie consistency. Blend on high until all the ingredients are thoroughly combined and the smoothie turns purple.
Even though all 4 recipes are diabetes friendly, we still recommend being mindful of your portion size. But there is nothing wrong with enjoying ourselves! People living with diabetes should not be kept away from enjoying ice cream, pizza or anything else. On this day, we have alternatives to everything. You can make your diabetic ice cream with any flavor, and top your diabetic pizza with healthy topping alternatives. Chose fruits with low sugar instead of artificial sweeteners to prepare your diabetic smoothie!
We have to move our mindsets from thinking that diabetes forces us to restrict ourselves from the tastiness of food to think that it allows us to discover a healthier, sugar free life!