The COVID-19 outbreak has caused massive disruptions worldwide. Up to this day, the pandemic has continued to show some societal repercussions. But if anything, it has taught us to value one vital aspect of life — our health.
The World Health Organization (WHO) recommends having a healthy diet amid the global health crisis. The Centers for Diseases Control and Prevention (CDC) also underscores the importance of physical activities. These two key aspects are vital in fostering health and well-being.
But how can you promote physical fitness and proper nutrition amid the pandemic?
Fret not, as we've rounded up the top fitness and nutrition trends in 2022. Read more to know what to adopt for your health this year.
The BMJ considered the lack of physical activity as a global health problem. The COVID-19 crisis has led to decreased physical activities and increased sedentary lifestyles. That in itself is already a pandemic.
The National Library of Medicine studied the changes in physical activity (PA) during the pandemic. More than half of the respondents admitted having reduced PA. While 31% claimed an increase in PA, 18% said they had no PA change.
Unfortunately, physical inactivity can be detrimental to one's health. It can lead to diseases, COVID-triggered complications, and even early mortality. It's good that about 31% have found ways to increase their PA amid the crisis.
Below are top physical fitness trends you should consider adopting this year:
Did you know that the pandemic has led to the rise of house gyms? Due to the restrictions at the onset, people have resorted to home exercises. They have set up their house gyms and invested in workout tools and equipment.
The Washington Post cited that the home workout revolution in the pandemic may be here to stay. This trend will likely continue this year and in the next few years. Why? Many have seen the benefits of working out at home. If you haven't set up your house gym yet, it's never too late to do so this year.
People have resorted to online workout training during this pandemic. Thanks to digital tools and communications technology, they have made this plausible. People can join virtual sessions and get assistance from online trainers while working out at home.
Per ACSM's Health and Fitness Journal, online training was the number one fitness trend last year. However, this trend shows no sign of stopping or slowing down this year. Expect live and on-demand exercise classes to continue. Take the plunge into one as well!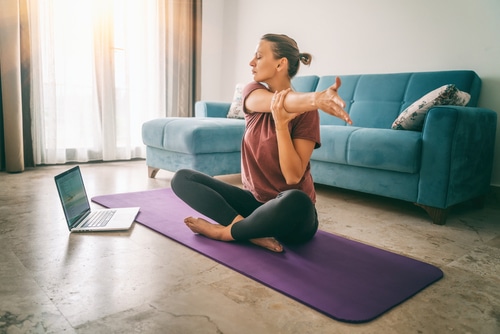 Since last year, the world has gradually gone back to normal. Companies have adopted the hybrid work setup, where employees sometimes work from home and sometimes go to the office. People have started pursuing outdoor activities that promote physical fitness:
Walking
Jogging and running
Hiking and camping
Biking or cycling

Tim White, Founder of Milepro, recommends traveling as part of outdoor recreation. However, he suggests those that include physical activities to promote physical health and mental wellness. "As long as you're fully vaccinated and taking precautionary measures, you'll benefit from traveling."
Wearable technology has been rapidly growing in recent years. It has become all the more popular during the pandemic. People have started using gadgets and electronic devices that monitor health and promote physical fitness. A few examples are:
Fitness monitoring apps
Sleep trackers
Smart eyeglass for vision impairment
Smartwatches for health
GPS tracking devices for outdoor activities
Heart rate monitors
Consider investing in one or some wearables above. They can assist in your physical fitness journey. They can help you become more health-conscious.
Due to the pandemic, people have started treating health and wellness as a way of life. They do not solely focus on physician fitness or proper nutrition. Instead, they strive to live a healthy lifestyle through a holistic approach.
One example is practicing yoga to promote physical health, mental wellness, and spiritual enlightenment. Yogis and yoginis even pair this practice with proper nutrition. They believe this helps trigger the body's detoxification process
According to the WHO, fighting world hunger, food insecurity, and malnutrition has been challenging. Such challenges have been growing, further amplified by the COVID-19 crisis.
The UN Food and Agriculture Organization reported the surge in global hunger last year. After remaining steady since 2015, the undernourishment (PoU) rose from 8.0% in 2019 to 9.3% in 2020. It then increased to 9.8 percent in 2021.
Unfortunately, the lack of food and proper nutrition can cause adverse health repercussions worldwide. Amid the crisis, crucial players in the health sector are looking for ways to address this.
Even ordinary individuals are finding means to eat healthily. Below are top food and nutrition trends to adopt this year:
6. Proper Nutrition for the Immune System
The pandemic has given so much importance to the immune system. Boosting this is the best way to protect oneself during this pandemic and in the post-COVID world. The better your immunity is, the more you can fight off microorganisms (virus and bacteria) in your body and prevent diseases. 
As such, people need to eat healthily to boost their immune systems. Remember that 60% of our immune system comes from the gut and lymphatic system. The key here is to have a healthy diet (plus a healthy lifestyle). These include:
Eating whole fruits
Choosing green leafy vegetables
Opting for lean meat
Cutting down sugar, salt, and fat intake
Avoiding processed foods and canned goods
7. Functional Foods for Mental Health
The pandemic has led to mental health issues like depression, anxiety, substance abuse, and suicidal ideation. However, it has opened the doorway for more discussions and interventions.

In the past, people believed that proper nutrition only impacts physical health. Today, people begin to realize that diet also affects mental health. Hence, registered dietitian nutritionists (RDN) now recommend functional foods to support mental health.

Diabetes, for instance, indirectly impacts mental health. Regularly eating foods rich in sugar can lead to obesity and escalate to type 2 diabetes. As a result, this can cause psychological distress, depression, and anxiety. Regulating your food intake and opting for functional foods like mushrooms can help address your mental health issues.
8. Food Localism and Sustainability
The pandemic had led to a renewed trust and confidence in the local food suppliers. These include food purveyors such as farmers' markets, grocery stores, and local restaurants. They provide much healthier foods such as organic ones. They also offer alternatives to address food insecurity and promote sustainability.
Brian Nagele, CEO at Restaurant Clicks, has helped local businesses and consumers during this pandemic. They promote local restaurants in different cities by serving as a go-to guide. "While we seek to provide locals with many options, we also keep proper nutrition in mind."
Fostering Fitness and Nutrition for Health and Well-being
While the COVID-19 crisis is here to stay, we should continue to value our health and well-being. Promoting physical fitness and proper nutrition is key to achieving this.
That said, be sure to consider the top trends discussed above. Follow some recommended pieces of advice on health and wellness. All these will help you and your family stay on top of your overall well-being.
But with or without a pandemic, always stay physically active and eat properly. In the end, our health should always be our top priority!