Losing weight quickly is everybody's goal. The most frequently asked question about weight loss is how to lose weight fast in 2 weeks or how many kilos can be dropped in days. However, adopting a healthier perspective and focusing on sustainable weight loss through healthy dieting is important. Rather than aiming for rapid weight loss, it's recommended to prioritize long-term health and wellness goals.
But detox programs and short-term low-calorie plans can function well if you need to lose weight fast and healthily. What is important about these is to make a personalized plan suitable for your body and take the necessary nutrition from the low-calorie meals/juices.
So, if you are wondering how to lose weight fast in 2 weeks, let's hear the story from someone who truly experienced it. Here is the fast weight loss journey of Bianca, a 34 years old woman. She dropped 7 kilos in 2 weeks at TheLifeCo.
7 Kilos in 2 Weeks with a Natural Method
I want to share an extraordinary chapter in my life—a journey that not only transformed my body but also prepared me for the most magical day of my life, my wedding. Before that, I was googling daily questions like "How to lose weight fast in 2 weeks?" but I was not taking action afterwards.
As a 34-year-old woman determined to look and feel my best on my special day, I embarked on an incredible adventure at TheLifeCo Wellbeing Center. Through their remarkable Master Detox Program, I shed 7 kilos in just two weeks and rekindled my inner radiance. And I achieved my goal by restricting my calorie intake only!
Dropped Not Only Weight But Also Toxins
With my wedding day fast approaching, I was determined to cleanse my body of accumulated toxins. The Master Detox Program at TheLifeCo became my guiding light, offering a fast and effective way to detoxify and rejuvenate. The program supported my body's natural cleansing processes through liquid-only shakes, herbs, and Himalayan salted water, providing a much-needed boost to my immune system. As the toxins were flushed out, I felt renewed vitality and resilience, ensuring that I would shine on my big day.
Move Your Body for Weight Loss Goals
In addition to the life-changing Master Detox Program, TheLifeCo Wellbeing Center offered a comprehensive fitness experience that proved instrumental in sculpting my body and achieving fast weight loss. Every professional to whom I asked how to lose weight in 2 weeks said I could do it with the nutrition plan, but to see a huge difference in my looks, moving the body is a must.
The combination of a well-equipped gym, strength training areas, dedicated wellness coaches, personal trainers, and invigorating yoga sessions provided the perfect balance to complement the detoxification process. Also, these additional services supported my goal of getting lean muscles.
Each morning, as the sun painted the sky with hues of orange and pink, I joined fellow guests and a skilled trainer for a refreshing morning walk along the seaside. The green environment, fresh air, and stunning views were a constant source of motivation.
This daily activity enhanced my physical wellbeing and created an opportunity for delightful chit-chats with like-minded individuals on a similar journey towards rejuvenation. And thanks to that routine, I had the chance to burn more calories per day without feeling hungry!
The incorporation of regular yoga sessions further complemented my fitness journey. The fluid movements, deep stretches, and mindful breathing improved my flexibility and helped me find balance and tranquillity amidst the wedding preparations. Yoga became a cherished practice that nurtured my mind, body, and soul.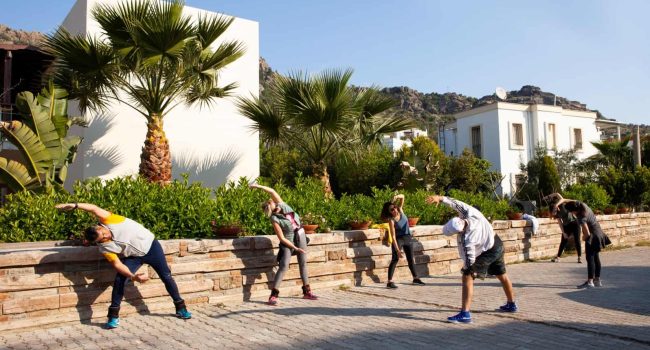 The combination of the Master Detox Program and the well-rounded fitness regimen allowed me to achieve fast weight loss without compromising my muscle mass. As someone who normally works at a desk and rarely exercises, the program certainly increased my activity levels. As I shed excess fat, my body became leaner, and my daily calorie expenditure increased.
This created a positive cycle of progress, where the detoxification process accelerated weight loss while exercise helped me maintain and build upon my results. If you want to know how to lose weight fast in 2 weeks, I can easily say that the answer lies in combining a healthy diet or a detox plan with an exercise program suitable for your body.
How to Lose Weight Fast in 2 Weeks: End of My Journey
As my wedding gown awaited its grand reveal, the Master Detox Program at TheLifeCo unveiled a truly remarkable transformation. By detoxifying my body from within, I also witnessed incredible external benefits. My skin, no longer burdened by toxins, radiated with renewed luminosity. Clogged pores opened, and the rejuvenating effects of the green juice included in the program gave my complexion an unmistakable bridal glow.
I did not only lose weight in two weeks but also learned great information and practices that will support a healthy lifestyle and prevent excess weight gain.