Whether it's called "detox soup" or "vegetarian soup, " it's just a delicious broth full of healthful nutrients. A detox soup aids in the cleansing process of toxins from the body, weight loss and eases digestion. It can also prevent gastritis, strengthen bones, promote healthy heart functioning, and have many other benefits.
Soup has been around for a long time, but various civilizations have created stews made from vegetables or pulses throughout history. And with changing times and tastes, these soups or dishes come up in different varieties through different combinations of ingredients. Soups can be considered a type of dietary plan. Because they help enhance the body with healthy nutrients and aid in detox and weight loss.
This article will show you how to prepare a detox soup that is quick to prepare, filling and tastes great! You can either be on a weight loss regime or detox plan or want to add a healthy alternative to your life; you can easily prepare a gluten-free soup with vegetable broth and anti-inflammatory herbs in 20 minutes.
Why Should You Try a Detox Soup?
When we think of detox foods, the first thing that comes to mind is generally some green juice or a smoothie. But detox soups are a fantastic way to detox and cleanse the body while still getting all the necessary nutrients. They are easy to make, and you can easily add a variety of different vegetables, beans and spices your recipe to make them even more nutrient-dense and flavorful.
Soups are not only incredible detox foods, but they are also very filling and satisfying. Ensuring you are getting enough nutrients and not feeling deprived is important when trying to detox and cleanse your body.
There are many benefits to following a detox soup diet:
1. Helps With Weight Loss
Soups are an essential part of a healthy diet for anyone trying to lose weight. Because they don't contain saturated fat and are low in calories, detox soups satisfy the sudden hunger pangs and prevent overeating. Healthy ingredients in the recipe eliminate harmful toxins from the body, reduce edema and help to stimulate your body's fat-burning abilities. 
2. Improves Your Digestion
Vegetables contain lots of fiber which helps optimise intestinal bowel movements, facilitates proper nutrition absorption, and eases digestion. Having it as a meal or drinking it before a meal helps digestion. Drinking a detox soup made from vegetables can also help prevent constipation and other gastrointestinal problems.
3. Rich Source of Fluids
Water-rich detox soups keep the body cells hydrated and help keep the skin fresh. Carbohydrates, proteins, fats, and vitamins and minerals provide the necessary energy for the body to carry out various activities.
4. Rich Source of Antioxidants
Antioxidants found in vegetables help protect against free radicals, which cause cell damage and premature aging. Regular consumption of antioxidant detox soups helps improve skin quality and gives a youthful glow.
5. Strengthens Bones
Vitamin D and calcium in vegetables help strengthen bones and the human body's skeletal structure. Including a detox soup into your regular dietary regime can prevent osteoporosis in adults and helps in bone growth and development in children.
6. Preserves the Nutrition of Vegetables
Detox soups are made from either broth or vegetables themselves, so the nutrition of the ingredients remains intact. Since the vegetables are lightly cooked and not overcooked, they stay in their original state and thus retain their nutrients.
How Does Detox Soup Help You During Detox?
During detox, you may experience physical and emotional symptoms of the healing. Detox soup can help you to cope with some of these symptoms easily and smoothly.
Dizziness: It's a usual symptom that can occur in the mornings. Resting and drinking detox soup with some Himalayan salt can boost your energy levels during detoxification.
Pain in the Body: It can be especially seen on the back of your body during detox. It points out that the physical blockages are relieved, and toxins are released in that area. Drinking more water and detox soup along with a small glass of water with Himalayan salt daily can help you reduce the pain and relax.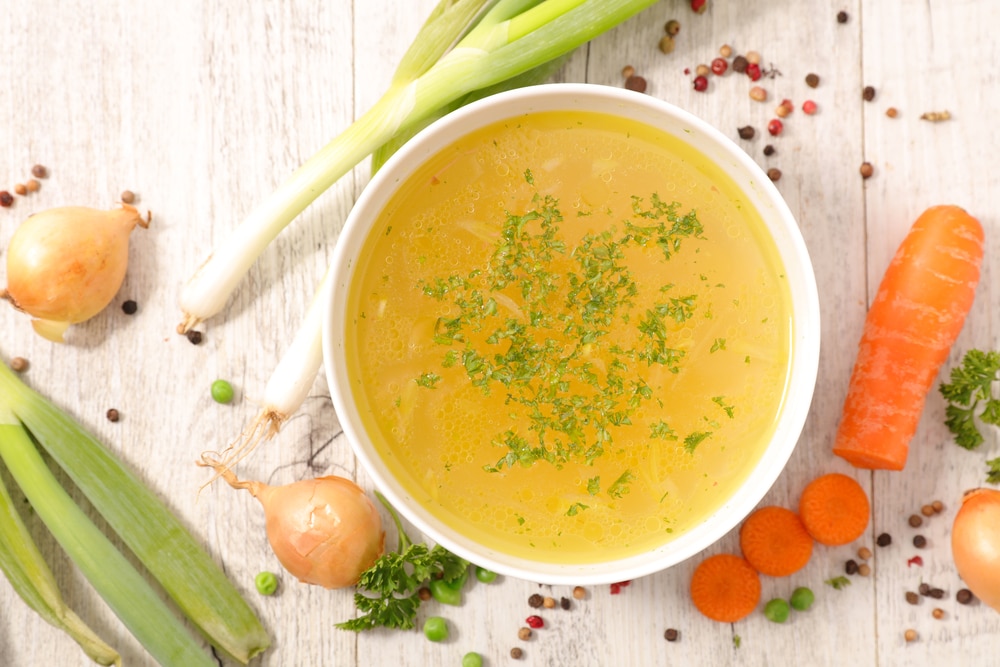 Vegetable Detox Soup Recipe:
Detox soup ingredients:
1 big celery with leaves
1 big red onion
1 big potato
150g fresh ginger
1 medium carrot
3 cloves of garlic
3 kale (black cabbage) leaves
100 gr white cabbage 
50 gr fresh rosemary
2 tablespoons dried mint
2 tablespoons dried parsley
2 rocket root
1 tablespoon chilli pepper powder · 3 tomatoes
3 tablespoons thyme 
Instructions:
Wash all the ingredients well and keep the skins on.
Cut celery, cabbage and kale finely and add onion with the skin.
Use a 24 cm deep and large steel pot. Put everything inside a large instant pot and add boiled water until the pot is full.
Bring everything to a boil for 5 to 10 minutes and let it rest for 1 hour.
Then strain the soup and use only the liquid with rich vitamins and minerals.
You can use lemon juice, salt and pepper or any spice you like to give more flavour.